Currently Watching: Big Little Lies This show feels refreshing. I don't know what I thought it would be but nothing like this. I am loving the mirrored story-lines between the Mothers and their children. Also that it is has a "murder mystery" element to it. The acting in this one is too good. Holding out reading the book till the series ends. As much as I love Netflix, HBO is killing it-Game of Thrones, Westworld, and Big Little Lies-3 knockouts.
Currently Cooking: I picked up Marion's Kitchen Green Curry  box mix on a whim last week. I have tried almost half a dozen brands of curry. While each one good-is always very underwhelming to the restaurant version. Marion's is not only delicious but I love the packaging and that it is not just sauce. This green curry one came with a curry paste, coconut creme, dried herbs, and bamboo shoots. It was literally the easiest thing to whip up. I did chicken, asparagus, zucchini, onion, and bell pepper. Will be picking up again! 20 minutes and  dinner is served.
Currently Reading #GirlBoss Lily Herman: Whenever I scroll through twitter Lily is one of the first people I look out for. Her tweets are so on point. She not only writes political pieces for teen vogue but her social commentary is a breath of fresh air. She is doing serious big time important things. Give her twitter and writing a look.
Currently Not Eating Sugar: Right now I am doing a 7 day sugar cleanse with my mom and best friend. Instead of looking at every ingredient on every label I am trying to not reach for those work cupcakes, after dinner chocolate covered cherries, or submerge my coffee in sugar. It has been hard, and I honestly didn't think I could do it. The first couple days I felt a little hangry and low energy. But am glad I am doing it just for the realization of how much additional daily sugar I consume. Not saying I didn't look up Salt and Straw's March flavors last night for post cleanse. But its little things.
Current workout: Pilates. I can not get enough of this workout. I love how reformers work and challenge your body. I also like how each Pilates class is different. Some are relaxed and feel good stretching, while some are more cardio intense. My go to has been Studio Pilates in El Segundo, because it is walking distance from my house.
Current Makeup Addiction: Bold Matte Lipstick. Oh man, If one thing can transform my look- it's lipstick. I love playing with different colors. Especially in the fall and winter when it is more acceptable to wear those moody burgundy's, sinful deep reds, and daring berry shades. One of my favorites last week has been none of the above, but  the Bite Multistick from my February Sephora Play Box in Cashew-which is like a greige taupe-soo not my typical bright colorful shade.
Current Purchase: Carol's Daughter Shampoo/Conditioner line. It is a little bit more on the pricey side, but It makes my hair so soft and it smells like almond Biscotti in the best possible way. Picked up the same brand but different scent  from Bed Bath and Beyond for around $9 with their coupon.
GIFs that describe my life:
Drinking coffee without Sugar for the first time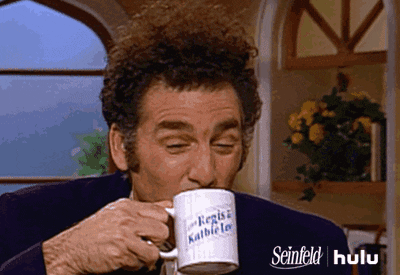 When you get to lay around in bed on the weekends without anywhere to go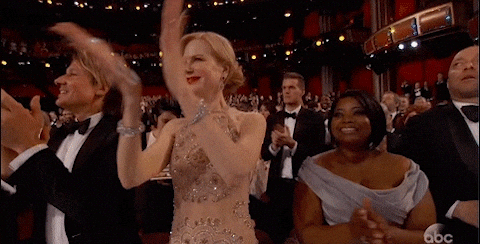 Getting postcards and mail from your friends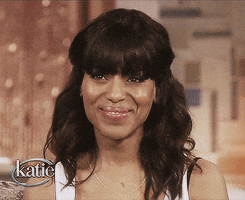 When it is 70 degrees in LA and last year you were in snowy, cold Utah