Happy Friday Y'all! Here is what I have been loving this week:
Sip by Swell Water bottle
I have been eying these at Target since they first came out a couple of months ago. 25$ is a great price compared to the 40$ price point of regular Swell bottles. I think these are just as effective as their adult counterpart. They keep both hot and cold drinks their respective temperatures for up to 12 hours. Perfect for leaving in the car when running errands. I patiently waited till they went on clearance and grabbed mine for $12, what a steal.
June Sephora Play Box
Sephora Play is a monthly subscription box filled with 4-5 samples from the brands they carry (everything from hair-care, skin care, and makeup) This is my second Sephora Play box and I was excited to try these products! I love getting little surprises in the mail and I think it is worth the 10-dollar price point. Some standouts from the July box are the Bumble and Bumble "Don't Blow it" which is supposed to give you a blow dry effect but while air-drying. And the Becca Back-light Priming Filter, which is a very subtle highlight.
Soul Food
For some strange reason, I very rarely go out to eat barbeque. Luckily I rectified the situation and went to Sweetie Pies NoHo with my Nana this past week. Holy Hell, their fried chicken was so juicy. The best part is really the crunchy fried breading which has a little kick to it. I didn't even know I was a huge fan of fried chicken until eating it at Sweetie Pie's. Honestly was one of my favorite meals since moving to LA. We had it with baked beans and sweet potatoes. Also a plus is their prices are cheap!
VOX.com Website
Quickly becoming one of my favorite news media websites. Their content is so smart, well researched, and informative.  I recently subscribed to their "Vox sentences" which is a daily roundup of news from around the web in single sentence bullet points! Also enjoying reading their content from the Backstory behind LaCroix to their informational info-graphic style videos on Gun Violence in America to Game of Throne 7 winner and 7 losers recaps. Seriously one of the best media outlets on the internet right now!
Fake Birkenstocks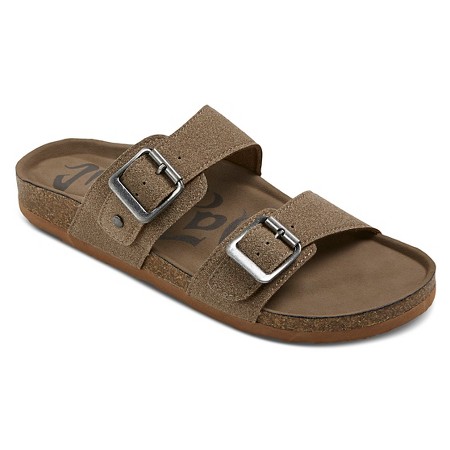 This past week all I have been wearing my pair Mad Love Keva Footbed Sandals from Target to the core. I used to make fun of my Oregon roommates all the time for wearing Birkenstocks. I thought they were the ugliest thing and totally too hippie for me. Well I am eating my own words because I am wearing the pair from target nonstop. They are so easy to throw on and go with everything. I have gotten so many compliments on them as well. Little do they know that they are fake!